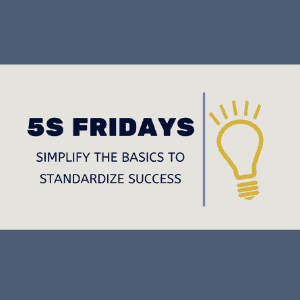 5S Fridays 2-4pm EST
Overview: 
Please join us for this session of 5S Fridays!
5S Friday is a action based workshop hosted on Zoom that will help you simplify the basics and standardize your success. Each workshop will have a short professional training, a review of the 5S Method, and then open work time where you will be able to receive support for any of your organizing or productivity questions.
Membership: 
5S Fridays is moving to a monthly membership platform.
As part of your membership, you will receive:
Access to all of the 5S Friday Sessions
Replays of the training-if you cannot attend live
The 5S Friday Workbook which will help you take your dreams and turn them into action each week
Paper & Planning Sessions on Tuesdays (This provides accountability, support, and make meaningful impact on your business)
One free 20 minute coaching session per month (to discuss your goals, address questions, or help you implement the tools we are currently learning)
Access to my direct Voxer account so you can text me throughout the month if you have a quick question. We also have an optional Voxer group for support, quotes, resources, and trainings.
All of this for $49 a month (which is less than one hour of coaching).
If you are not sure you are ready to join a monthly plan, you can join us for two sessions for free.
I know 5S Fridays will bring you incredible value to your work and business. I hope you will join us for a session soon!
The Free 5S Friday Sessions (Limit of 2 sessions per person) ticket sales has ended!
The 5S Fridays Monthly Membership ticket sales has ended!