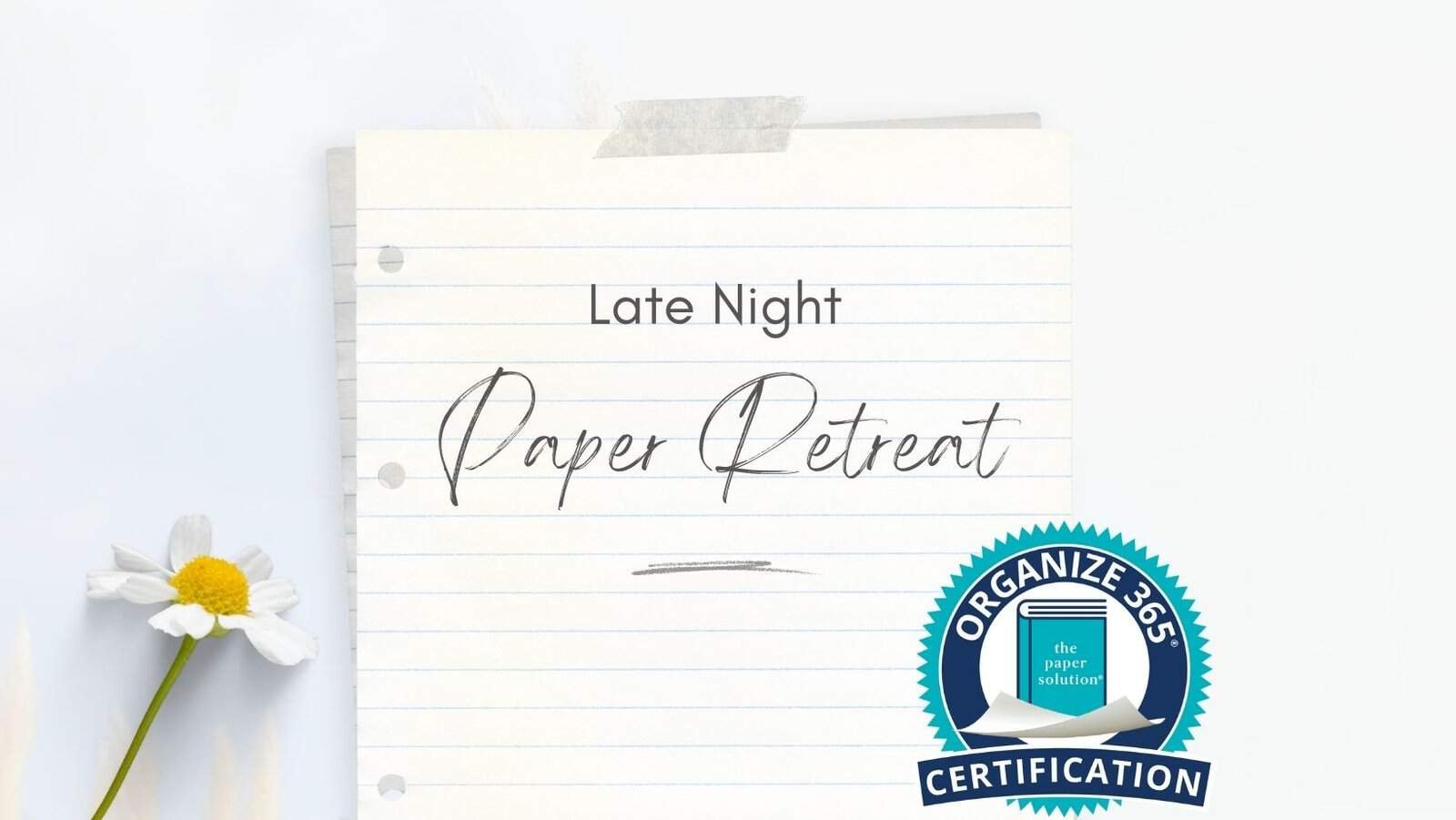 Local Time
Timezone:

Asia/Singapore

Date:

Jun 18 2023
Date
Jun 17 2023
Expired!
Paper Retreat-Late Nights 8-11pm EST

Imagine Taming All Your Paper Piles!

Think about how great it would feel if the bins and baskets of paperwork that are causing you stress and anxiety could be sorted in a fun, supportive environment, allowing you to finally scratch that task off your to-do list!
Join us for a Saturday Night Paper Retreat from 8pm-11pm EST (or 5-8pm PST) to tackle your paper clutter! You can work on home papers, work/business papers, binders, and digital clutter. With the ability to receive one on one support, we can make sure you are able to organize in a manner that best supports you, your family, and your teams.
Why a Retreat? 
Retreats make everything better! Even the word "retreat" sounds a lot better than "sorting paper." A virtual retreat allows you to work from the comfort of your home and you don't have to lug boxes and bins of papers back and forth. You will receive personalized coaching, energy to keep you motivated, and accountability to keep you going.
Almost every client has been able to get through 5-6 banker boxes or 4 large laundry baskets worth of paper in a three-hour retreat. The goal is to purge as much paper as possible as a group and to uncover the actionable items and the emotionally charged items that make the paper sorting process so difficult.
Paper is different from other household clutter because you cannot easily see what is there and one box of paper can contain hundreds of decisions and hundreds of memories and to-dos. This is why it's often the most overwhelming item for people to sort through. With our proven system, expert support, and continued support options we will be able to finally "draw a line in the sand" and get you on track with your current and past paper piles.
What is Included: 
3 hours of professional coaching and support. I have hosted over a hundred workshops and have created an agenda that works to keep you focused but not overwhelmed. This is also why I have refined my workshops to three hours as that is usually when you start to become fatigued and do not want to sort any more papers! This time will also allow you to have the rest of the day for other tasks or to relax knowing you will be a rockstar paper sorter at night!
A printable workbook that helps you evaluate what you want to do with your paper, how to sort your papers, and the next steps.
Get Ahead Bundle (MOST POPULAR OPTION): The Get Ahead Bundle is the best value if you are looking make substantial progress towards your organizing goals. For an additional $30 ($95 total with the cost of the retreat), you will receive one month access to the Paper & Progress Achievers Club.
◊The Achievers Club meets Tuesday, Wednesday, and Thursday mornings from 9:30am-12pm EST and Wednesday nights from 8-9:30pm EST with bonus sessions offered based on members' feedback/availability. You are welcome to come and go as you can during these sessions.
◊Members of the Achievers Club also receive FREE access to all paper workshops and paper retreats. While these are themed, you can choose to work on your own projects during these times. The workshops are scheduled quarterly.
♦The summer workshops are:
♦Sunday Basket Workshops are Wednesdays (except the last week of the month) from 1:30-3:30pm
♦The Great Friday Reset is the 3rd Friday of the month. This is a full day planning and organizing retreat from 9:30am-9pm with breaks. The first part is dedicated the Friday Workbox.
♦Friday Workbox Workshop are the 4th Friday of the month from 10am-1pm and the 3rd Friday of the month from 9:30am-9pm as part of the Great Friday Reset
♦Paper Retreats are the 2nd Saturday (in the morning from 9:30am-12:30pm) and the 3rd Saturday (in the evening from 8-11pm)
◊The Achievers Club is only available to individuals who participate in paper treats/workshops or who have purchased a one-on-one package. The monthly membership fee is $35.
What Type of Paper Will Be Addressed:
The beauty of a paper retreat is that it's 100% customized to you and your needs. Depending on the participants we could cover a wide variety of topics in the group and you can also send me personal chat questions if you have a private matter. I recommend you bring all of your paper and then you can macro-sort it into piles. If you have work papers (corporate or self-employed) you may want to focus on either your personal or your work paper initially to make sure you have the space you need to complete this project.
What About Digital Clutter:
We have support for you too! I recommend Trello and Google Drive to people who are new to online and virtual organization, but I have worked in a variety of platforms and will be able to help during the worktimes.
What Should I Do Before the Retreat? 
You will receive an email with the recommended supplies and action steps. You can do as much prep work as you would like or you can do everything the day of. The supplies can be easily sourced from around your home or with a quick trip to the Dollar Tree.
Additional Questions:
Feel free to contact me at adriane@paperandprogress.com or call/text 217-255-3122.

Sold out!