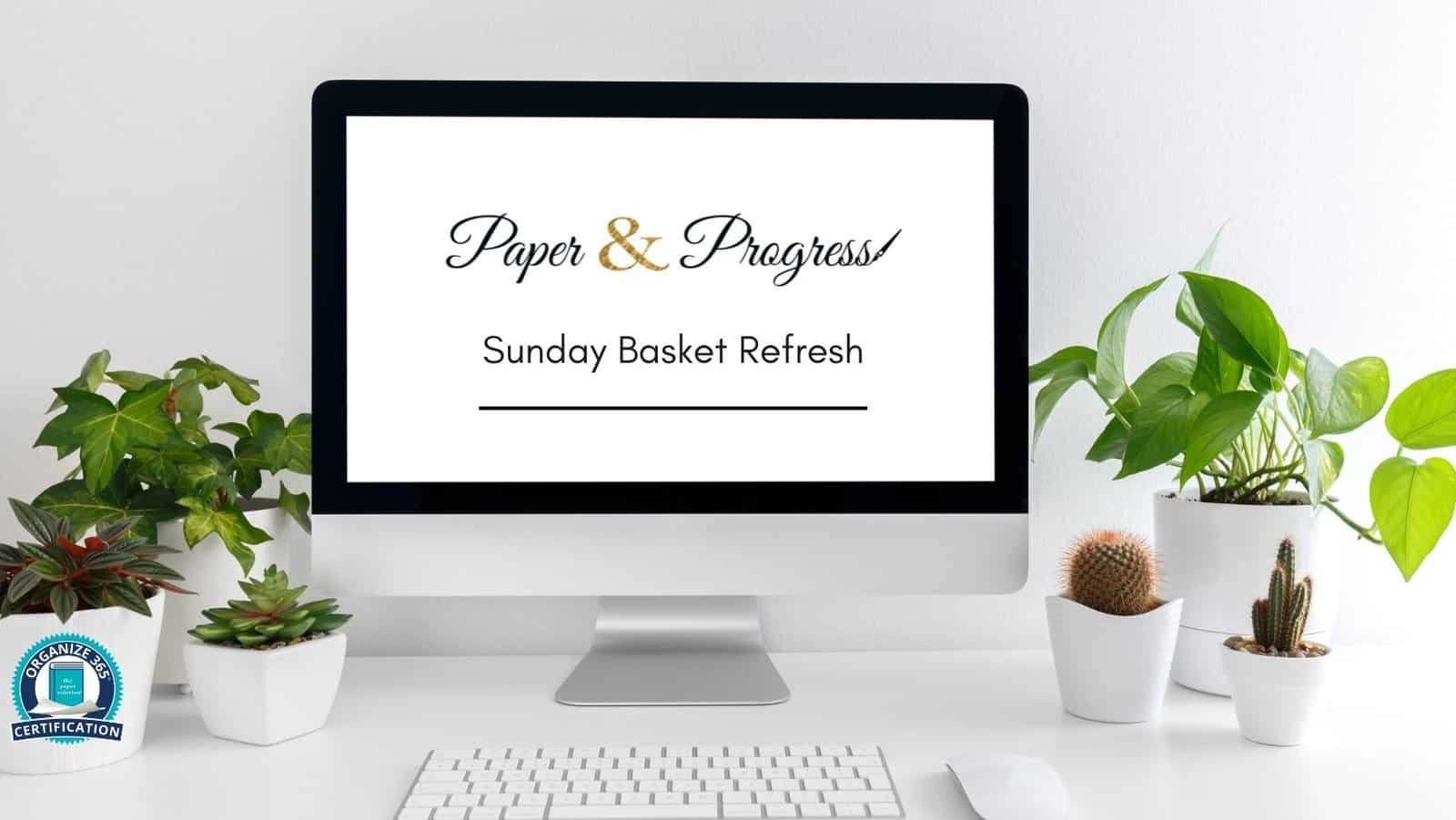 Local Time
Timezone:

Asia/Singapore

Date:

Jun 15 2023
Date
Jun 14 2023
Expired!
Sunday Basket Refresh 1:30-3:30pm EST

Sunday Basket Refresh
Is Your Sunday Basket A Hot Mess or Worse Empty and Waiting to Be Used? 
The Sunday Basket System by Organize 365 is an amazing tool to help you get in front of your week and in charge of your papers. The Sunday Basket helps you organize all of your active papers for you, your home, and your family.
Don't have a Sunday Basket? Contact me for a referral link and get this workshop for free! Email me at info@paperandprogress.com! 
During this two-hour workshop, I will help you set up your Sunday Basket, refresh a Sunday Basket to serve you better moving forward, or just help motivate you as you sort through your tasks and actionable papers.
You will leave feeling on top of the world as you have all of the administrative tasks planned for and your papers in order!
Want to go further?
With the purchase of this workshop, you can join the exclusive Achiever's Club for a special rate of $30 for your first month.
The Achievers Club is similar to co-working sessions in that it provides scheduled times to meet and work on any project that you would like, but I also am available to answer any questions and provide any support to you during these sessions. It is there much more collaborative than a show-up and work-style meeting.
◊The Achievers Club meets Tuesday, Wednesday, and Thursday mornings from 9:30am-12pm EST and Wednesday nights from 8-9:30pm EST with bonus sessions offered based on members' feedback/availability. You are welcome to come and go as you can during these sessions.
◊Members of the Achievers Club also receive FREE access to all paper workshops and paper retreats. While these are themed, you can choose to work on your own projects during these times. The workshops are scheduled quarterly.
♦The summer workshops are:
♦Sunday Basket Workshops are Wednesdays (except the last week of the month) from 1:30-3:30pm
♦The Great Friday Reset is the 3rd Friday of the month. This is a full day planning and organizing retreat from 9:30am-9pm with breaks. The first part is dedicated the Friday Workbox.
♦Friday Workbox Workshop are the 4th Friday of the month from 10am-1pm and the 3rd Friday of the month from 9:30am-9pm as part of the Great Friday Reset
♦Paper Retreats are the 2nd Saturday (in the morning from 9:30am-12:30pm) and the 3rd Saturday (in the evening from 8-11pm)
◊The Achievers Club is only available to individuals who participate in paper treats/workshops or who have purchased a one-on-one package. The monthly membership fee is $35.
Sold out!